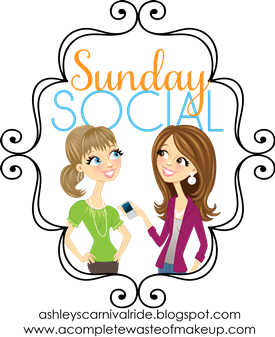 Hey y'all!
Time for week 4 of The Sunday Social!
This week's question are all about fashion! Now, I'm no fashionista so you definitely don't have to be to link up this week!
1. What is your favorite store to shop at?
Most of my clothes come from Gap, Old Navy, or Target.
2. If you could afford anything and everything, which designer brand would you covet?
Honestly, I'm not really in to specific designers. I like cute clothes that fit well, no matter where they come from. But, if we're talking handbags, I'm all about the Louis Vuitton :)
3. Must-have closet staple?
Skinny jeans, neutral cardigans, scarves, and lots of cute headbands!
4. Favorite kind of shoes?
Old Navy flip-flops. Just keepin' it real!
5. Best clothing deal you've ever gotten (sale or amazing find)?
I can't think of anything at the moment, but I do love finding great sales!
6. Style you'd love to try?
Right now I'm loving high-low dresses and skirts. I'm super self-conscious about my ugly legs, so I haven't been brave enough to try them yet. They are sooooo cute though!
Alrighty y'all, I'm excited to read your answers! Write up your posts and link them up with
Neely
and me!
Next week's questions
Week 5 is our TV talk!
What is your favorite TV show of the past?
What is your current favorite TV show?
Which r
eality show
would you NEVER do?
Which reality show would you LOVE to do?
What is the TV personality/character that you feel is most like you?
Which TV character would you want to date?
Neely and I really appreciate everyone linking up! We may not get to comment on all of your posts, but we are reading as many as we can! Thanks y'all!
Have a great Sunday!