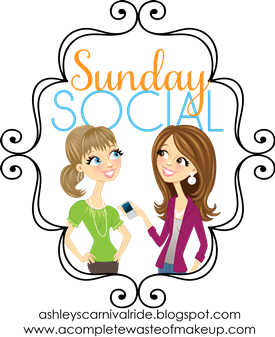 Hey y'all!
It's another week of The Sunday Social!
This week's questions are all about TV.
1. What is your favorite TV show of the past?
Oh, it's so hard to pick just one! My favorites were USA High, Boy Meets World, Saved by the Bell, and California Dreams!
2. What is your current favorite TV show?
I love me some Army Wives! Private Practice and The Voice are some other favorites.
3. Which reality show would you NEVER do?
I would never do Survivor because after a couple of hours, I'd be ready to go home. I couldn't eat the nasty stuff they eat, I'd be useless in the challenges, and I don't really like to get dirty :)
4. Which reality show would you LOVE to do?
I would love to be on The Singing Bee! I can't sing at all, but I am really good with song lyrics, so I totally think I could win! Plus, I'd love to hang out with Melissa Peterman, aka Barbara Jean from Reba!
5. What is the TV personality/character that you feel is most like you?
I got nothing, y'all! Who do you think is most like me?? 1000 points for the best answer!
6. Which TV character would you want to date?
I don't really watch Grey's Anatomy anymore, but I just adore Derek Shepherd. He's a sweetie!
Now it's your turn! Link up your answers with
Neely
and me!
Next week's questions
Week 6 is vacation fun!
1. What is the best trip you've ever been on?
2. What is your best idea for a girls weekend trip?
3. What is your best idea for a couples trip?
4. What is the best vacation on the cheap?
5. What is the place you most want to visit?
6. What are your vacation necessities?
Have a great Sunday y'all! Thanks for being "social" with us!