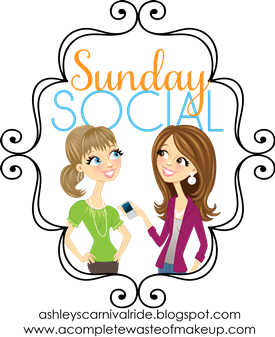 Hey y'all!
Before I get started on this week's post, I want to say a huge THANK YOU to everyone who voted in Nathan's Bloggy Awards! Because of your votes, The Sunday Social was voted best link-up!
How cool is that?
Neely
and I are so honored that you guys love linking up with us! Thanks for your support! Also, big thanks again to
Nathan
for being an awesome host! If you don't follow his blog, you should. Go now!
Alrighty, on to this week's questions!
Several of these come from Lindsey from
Follow the Ruels
! Thanks so much Lindsey!
Here are my answers to this week's questions!
1. What is your dream job?
Ohhhh, this is a tough one! Realistically, my dream job was to work in the adoption field, either with adoptive families or birth mothers. I was fortunate enough to spend three years doing both, and I wouldn't trade those experiences for anything! Now, for a "dream" job, I would say cohost of the Today Show. No, really, I wanted to cohost with Matt Lauer. I LOVE the news, and the Today Show was always on while I was getting ready for school.
2. If you had just won the lottery and didn't need to work for money, what would you do with your time?
Um...sleep? Read blogs? I would probably spend lots of time with my family and friends, and maybe travel a little bit too.

3. When you were a kid, what did you want to be when you grew up?
Katie Couric :) I've always been a big news fan, and I have this intense need to know what's going on in the world. When I was in 5th grade, my class did a weather project where we had to break into groups and make up a fake weather report. I was picked to be weathergirl in my group. Our teacher videoed them, and then the class voted who gave the best report, and I won! That kinda got me thinking that news reporting might be what I wanted to do with my life, and I pursued it until my sophomore year of college.

4. What piece of career advice would you give to someone just starting out in your field?
Well...I haven't been doing what I'm doing for very long, so I don't feel qualified to give specific advice. But in general, I would say find something that makes you happy, do your best, and follow your heart!

5. What are your biggest pet peeves in life, blogging, or at work?
Senseless drama, in life, blogging, AND at work

6. What are your biggest fears?
My biggest fears are spiders, tornadoes, and flying in an airplane.
Your turn! Answer the questions, grab the button, and link up with Neely and me!
Next week's questions
This week's questions are all about fall! Neely loooooves fall weather!
1. What is your favorite fall activity?
2. Do you follow a football team? If so which one and why?
3. What is something fun about fall in your area?
4. What are your favorite fall outfit staples?
5. What things are you looking forward to most about this coming fall season?
6. What is your favorite fall holiday? Traditions?
Hope y'all have a great Sunday!